Just a selection of mascot costumes, human mascot costumes, promotional mascot costumes including packaging, food, fruit and vegetable mascots.
This is just a few of the mascots we have, if you'd like to see more than click here to go to our main gallery!
lion & kenny his keeper
LION MASCOT COSTUME WITH HUMAN MASCOT COSTUME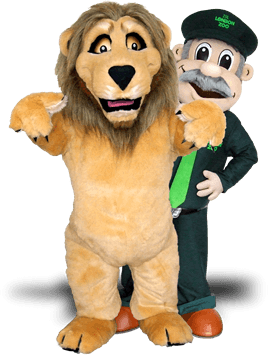 We have an ongoing successful partnership with ZSL London and Whipsnade Zoos. A selection of high quality mascot costumes were designed and created by us to enhance the visitor experience. Keep scrolling to see more great mascot costume solutions!
coffee store mascots
COFFEE CUP MASCOT COSTUMES/ MUFFIN MASCOT COSTUME
Coffee shops have grown in numbers over the last two decades, and what better way to launch new stores, clearly show where existing stores are, than by using a mascot. If you serve great coffee, then you'll need a great mascot.... from Frenzy!
WHAT A HOOT!
OWL MASCOT COSTUME/ OWL COSTUME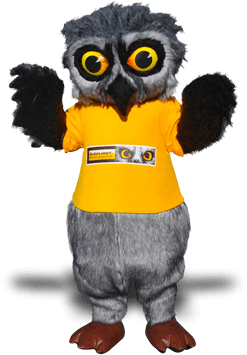 The owl has long been synonymous with wisdom - the owl should, indeed, be our Mascot - as you can see through years of experience, we have unrivalled skills in bringing all creatures to life as mascots
considerate builders!
BUILDER MASCOT COSTUME/ BUILDER COSTUMES!
Just one of the many changing faces of the construction industry we have created! Mascot costumes for the construction industry help in the community work undertaken by organisations and have a wide range appeal to audiences of all ages!
FABIAN FRUIT COCKTAIL
HEALTHY EATING MASCOT COSTUME!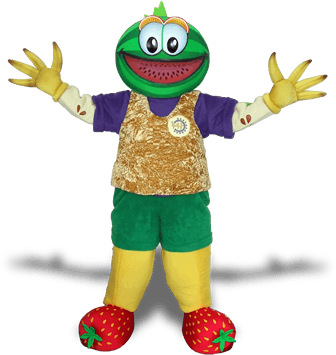 We designed and created this costume for the Camarthenshire Youth and Children's Association and also provided them with artwork for their promotional literature. Remember, even the most complex bodies are machine washable! How many fruit can you spot in this mascot costume?
reggie crayfish & lola lobster
NO MESSING AROUND ON THEIR MANOR...
We have created some complex sealife mascot costumes over the years including many for the Marine Conservation Society. This crayfish highlights the wonders of our design input and the digitally printed fabrics we use.
CHEEKY MONKEY MASCOTS!
MONKEY MASCOT COSTUME/ MONKEY MASCOTS
Monkey mascots have to be one of the most popular costumes for children. We have made so many we can't feature them all here, but if you are interested in a monkey mascot costume then please get in touch and we'll send you lots more images!
EGBURGA EVOKES ECCLESIASTIC ELATION...!
EAGLE MASCOT COSTUME/ BIRD MASCOT COSTUME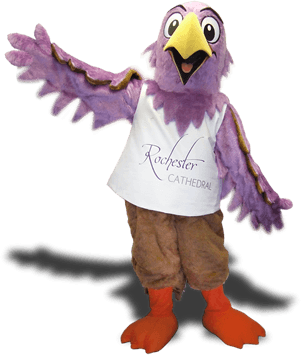 ROCHESTER CATHEDRAL: "Oh my goodness we are thrilled. Much excitement in the office all round today! The Dean didn't quite know what to make of it especially when I suggested he do his Lands End to John o'Groats bike ride in it! We are totally delighted - thanks for doing a fab job - she'll have her first outing on Saturday I will take some pics and email you next week when I get a chance!"
meerkats... easy!?
MEERKAT MASCOT COSTUMES
This character is a great example of how we can use longer pile acrylic furs which are really cuddly, soft and can respond well to air movement.